26th June 2019
Consumers want dairy-free options in the foodservice sector even if they are not lactose sensitive
Consumers across the globe see the benefits of dairy-free products and want such products to be readily available in the foodservice sector, 2018 research by FMCG Gurus shows. Indeed, a total of 39% of consumers across the globe say that it is important that foodservice channels such as pubs, bars, and restaurants offer dairy-free offerings. This is despite a noticeably lower proportion of consumers (25%) saying that they believe themselves to be lactose intolerant.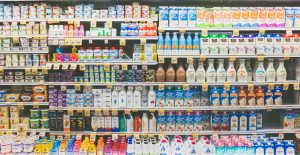 Over the last decade, the popularity of dairy-free products has risen considerably. Whilst this can be linked to a growing number of consumers deeming themselves to be lactose intolerant/sensitive, it can also be attributed to changing perceptions towards dairy. For instance, 3% of respondents say that they follow a vegan diet. However, this is only a very small proportion of society and instead, the popularity of dairy-free offerings can be linked to the association with improved digestion (Digestive health blog), better energy levels, and weight loss.
For instance, 26% of consumers are currently trying to lose weight, 44% are not satisfied with their digestive health and the majority say that they regularly do not have enough energy to get through the day. As such, this is something that will drive demand for dairy-free offerings in the foodservice channel, particularly as consumers eat and drink out-of-home on a regular basis.