3rd November 2020
Chocolate Trends Within The UK 2020
---
Introduction
COVID-19 has had an instant impact on the world that we live in today, creating a great deal of uncertainty towards how consumers go about their daily lives. This has affected snacking and dietary habits of consumers, with many seeking out sugary confectionery for mental wellbeing purposes. FMCG Gurus research shows that a high proportion of consumers said they were now snacking more regularly, whilst around one in five also said that they were being less attentive to calorie intake. Chocolate is an indulgent product that has increased in consumption over the past few months, with 39% of global consumers stating that they have purchased more compared to what they had done in the previous months. So how does this compare in the UK?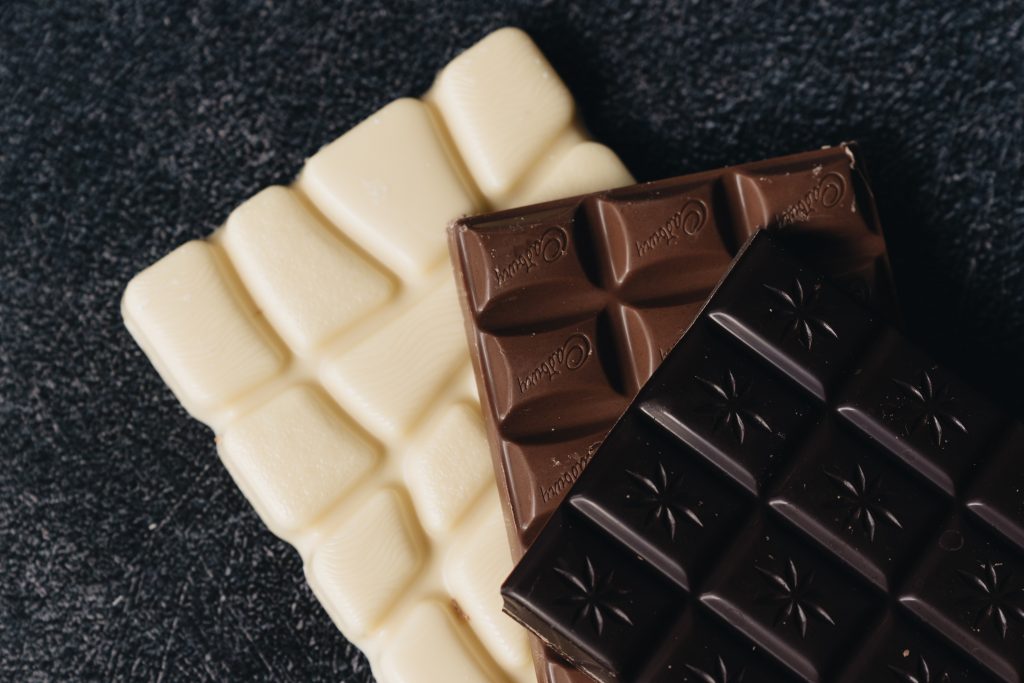 Chocolate Consumption in the UK
In the UK, consumers are prone to having a chocolate bar throughout the day. FMCG Gurus insights show that 97% of chocolate eaters like to indulge in a single-served bar. The consumption of such chocolate products is being consumed for escapism purposes. The need for escapism is important to consumers, with many of them feeling confused and stressed during current times of uncertainty.
This can be seen as FMCG Gurus consumer research shows that 84% of consumers have sought out snacks that offer moments of comfort, as a result of the coronavirus pandemic. For consumers to gain this sense of comfort, Flavor is a key driver when it comes to chocolate products. FMCG Gurus research shows that in the UK the top three flavors within the chocolate sector are: Chocolate Hazelnut (94%), Caramel (93%), and Milk (90%).
Over the past few months within the UK, there has been a noticeable increase in the proportion of consumers who say that they have become more conscious about their weight. This is a result of the higher consumption rates of sugary confectionery products such as chocolate and that 43% of UK consumers also being less attentive to their calorie intake. However, many consumers are adopting a holistic health approach to their life and looking to address all aspects of health as one with weight management being a key area to address.
Good-For-You Claims
As consumers have become less attentive to calories they are becoming more conscious about their health. This will lead to a number of consumers to seek out Good-For-You-Claims attached to such chocolate products.
This desire to seek out healthier and good-for-you claims is highlighted as 28% of UK consumers state they will make greater attempts to stay healthier in the future. Protein is an ingredient that has recently formed a health halo as consumers look for healthier alternatives to their traditionally snacking products. When asked, 74% of UK consumers state that they would find protein claims within chocolate bars more appealing. This creates greater opportunities for brands and manufacturers to introduce Good-For-You-Claims and functional ingredients within their chocolate products.
Recommendations
During these times of uncertainty due to the coronavirus pandemic, consumers are going to continue to consume chocolate products for escapism and indulgent purposes. However, because of the increase in such chocolate consumption, consumers are becoming increasingly aware of the weight that they are gaining. This opens up opportunities for brands to create Good-For-You chocolate products. The importance of using such claims will allow consumers to indulge and escape from their daily pressures, while also allowing them to have a guilt-free enjoyment.
---
For more information on our FMCG Gurus – UK Chocolate Survey 2020 – Please contact, Info@fmcggurus.com