1st November 2019
Tired and fatigued consumers seeking out natural sleeping solutions
---
Many consumers struggle to get a good night's sleep, particularly younger adults. This is something that can impact on their quality of life from a personal and professional perspective. Disrupted sleeping patterns can be attributed to a variety of factors, such as daily stresses and an over-use of technology. This is something that is driving demand for products that help consumers relax and unwind and improve the quality of sleep. When it comes to such products, natural formulation is crucial to reassure consumers that products will not have a long-term impact on health.
Across the globe, consumers are feeling more sleep-deprived than ever before. Indeed, a survey of 25,000 consumers conducted by FMCG Gurus in Q1 2019 found that 42% of consumers say that they often have difficulty sleeping at night. This is an attitude that was most common amongst young adults aged 25-34.
Sleep deprivation is something that is occurring due to tired and fatigued consumers being unable to switch off from the pressures of daily life. It is also something that can be linked to the constant use of technology in bed, something which can impact the body's ability to relax. For instance, 39% of consumers admit that they can spend too much time on social media, something that impacts on bed and sleep patterns. Additionally, 52% of consumers state that they regularly experience feelings of stress. Feelings of stress can be linked to a variety of issues such as concerns about finances and the health and wellbeing of loved ones. Regardless of the reason, sleep deprivation is a key reason why 48% of consumers often say that they often feel that they do not have enough energy to get through the day.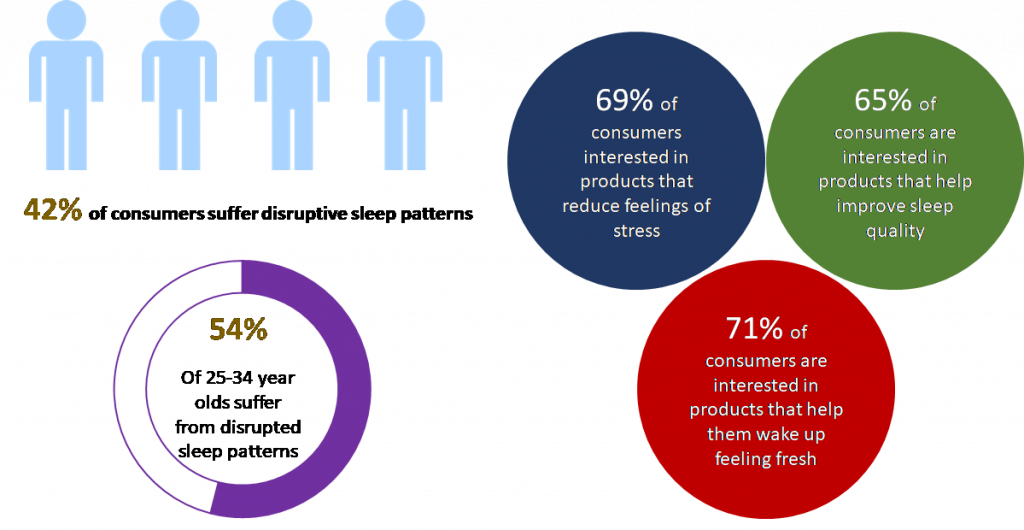 Poor quality sleeping habits are something that consumers across the globe want to address. FMCG Gurus research shows that 69% of consumers are interested in products that reduce feelings of stress. Meanwhile, 65% of consumers say that they are interested in products that improve sleep quality and 71% amount in products that help them wake up feeling revitalized. The importance of waking up feeling fresh and reinvigorated is something that cannot be underestimated. For example, consumers want to improve their sleeping patterns for a variety of reasons such as wanting to improve quality of life (47%) and eliminating the embarrassment associated with not feeling mentally alert (12%).
When it comes to products that help aid relaxation and improve sleeping patterns, natural formulation is crucial. This is because consumers want to avoid products that contain chemicals and synthetics that they associate with having a long-term impact on health. This is particularly true of products that are specifically positioned around altering a person's mental state. One opportunity for the industry is to capitalize on a growing interest in botanicals that are associated with relaxation such as jasmine and chamomile. The use of these ingredients is something that will reassure consumers that products can address their need states without any long-term consequences.
This is something that the food, drink and supplement industry needs to capitalize on, particularly as sleep deprivation is something that will continue to become more common amongst consumers.
---
This report is based on a survey of 25,000 consumers conducted in Q1 2019