29th August 2019
The popularity of beer and substitutes in France
The beer industry
Beer is a very popular alcoholic drink amongst the French population. FMCG Gurus research shows that 76% of consumers who drink beer like to drink lager. However, perceptions of beer suggest that consumers are looking to reduce their intake. 57% of consumers have stated that they have either marginally or significantly reduced their beer drinking habits. The main reason for consumers choosing to lower their beer intake is due to Financial reasons (52%) and 37% of consumers lowering beer intake to improve their health. Consumers in France are most concerned about gaining weight (72%) when drinking beer.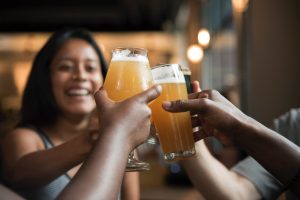 Consumer Habits
Many consumers find it hard to reduce their drinking habits due to the perceptions that beer holds within society. FMCG Gurus research shows that 59% of consumers associate alcohol with having a good time and find it hard to not drink when their peers around are also drinking. Due to consumers wanting to improve their health, this has led to an opportunity for brands to launch non-alcoholic beverages and beer substitutes. Low alcoholic/non-alcoholic beers are becoming more popular amongst consumers with 40% switching to these options.
Substitutes and Flavours
Although consumers are willing to reduce their beer intake, 39% of consumers say that there are no good beer substitutes. Of these consumers, 26% say this is because they have not seen any available and 54% say they do not like the taste of beer substitutes. Therefore, brands can look to improve and experiment with flavors for beer substitutes. In the beer market the top flavors which consumers find appealing are; Lemon 49%, Pear 48%, Passionfruit 47%, & Grapefruit 44%.
This survey was conducted in Q3 2019 with 1000 respondents – all respondents in the survey are consumers of beer. Click here to see more details on our beer surveys.
Related Blogs
Trends Impacting the Beverage Industry | Top Flavours in the USA | Probiotics in France