9 July 2019
5 Key Trends Impacting the Soft Drinks Industry
This report is based on the following surveys conducted in Nigeria in Q1 2019.
FMCG Gurus consumer profile survey series | clean label survey series | flavour survey series
Introduction
The soft drinks market is segmented into 6 categories. These being carbonates, concentrates, chilled juice, water, energy drinks, and sports drinks. FMCG Gurus research shows that carbonates are witnessing the slowest growth rates as consumers are hit with a growing concern about sugar intake linking to obesity and diabetes. In comparison, sports drinks have seen positive growth rates due to consumers being more proactive about their health and seeking drinks with functional ingredients.
FMCG Gurus has identified 5 key trends within the soft drinks sector that brands and manufacturers need to actively monitor.
The war on sugar | Flavour fusion | Rest and recuperation | Active nutrition | Green and clean
The War on Sugar
Obesity and diabetes are a serious health problem, particularly as diagnosis rates continue to rise despite consumers saying that they are making greater attempts to lead a healthier lifestyle. This has affected the beverage industry as 35% of consumers say that they find low sugar claims appealing when it comes to soft drinks. Although this is the case, consumers still prioritise taste and affordability over sugar content. When looking for alternatives natural sweeteners such as stevia are very popular. 57% of consumers associated stevia to be healthier than sugar. On average 37% of consumers agree that beverages containing stevia are better or much better than sugary drinks.
Flavour Fusion
Taste and flavour are the two most important elements when it comes to buying soft drinks.
The top flavour preferences for consumers in Nigeria are: Carbonates: cola 60% | Juice: orange 80% | Hot tea: green tea 64% | Bottled water: lemon 45% | Sports drinks: apple 63%.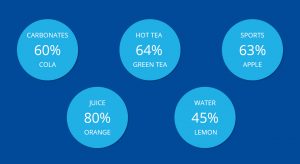 Green and Clean
Consumers desire beverages that contain real and authentic ingredients that are deemed to have nutritional value and free from synthetic ingredients and chemicals. 64% of consumers state it is important that beverages carry natural claims. 2 in 3 consumers believe the term 'Natural' means a product is more likely to be either healthier or contain no added sugar. Furthermore, 76% of consumers strongly feel that natural sweeteners are a healthier alternative to sugar. Encouraging brands to look to distinguish the link between natural formulation and ethical and environmental challenges.
Active Nutrition
Active nutrition is a concept that is based around consumers increasing responsibility for their health by seeking out beverages that are deemed to offer a genuine health incentive. Interestingly, 3 in 4 consumers state that they are interested in food and drink products that promote maintained healthy blood sugar levels and maintained lean muscle. Brands and manufacturers need to ensure that they actively develop products that are aimed at this fast-growing market while offering consumers reassurances that the taste of the products is not compromised but "better for you".
Rest and Recuperation
One key trend identified by our Nigeria Survey's Q1 (2019) which will have a great influence on the soft drinks market over the next five years is tired and fatigued consumers. In Nigeria, 30% of consumers state they have difficulty sleeping, due to factors such as the frantic nature of modern life as well as struggling with their work/life balance. Interestingly, 9 in 10 consumers say they're making attempts to improve their work/life balance. This can further be seen by 75% of consumers stating a strong interest in products that involve sleep quality. Brands and manufacturers should aspire to formulate beverages with ingredients associated with supporting relaxation, through positioning beverages around encouraging consumers to take a break and rest on a day to day basis.
Conclusion
In conclusion, FMCG Gurus show that these 5 emerging trends are affecting the soft drinks industry in Nigeria with the war on sugar having the biggest impact. This suggests brands need to be aware of the changes in society to keep products up to date with consumer preferences.