30 July 2019
Flavour preferences in the USA
If consumers do not like the flavours and variety of choices consumer may choose to neglect a brand. FMCG Gurus research, conducted in February 2019 in the USA with 1000 respondents, identifies the most popular flavours on a category-by-category basis. This blog will allow the reader to understand if consumers have a preference for traditional or experimental flavours across the beverage, impulse and meat and savouries industries.
The Beverage Market
In the beverage market, there are 6 key categories. These categories are: Carbonates, Juices, Hot Tea, Water, Sports Drinks, & Beer. In the US the top flavour for carbonates is cola (49%). For juices the top flavour is orange (50%). Green tea is the most popular flavour in the hot tea category with 35% of consumers choosing this flavour. For water lime (24%) is the flavour of choice. Lemon (30%) is the top flavour for sports drinks and strawberry (13%) is the top flavour for beer.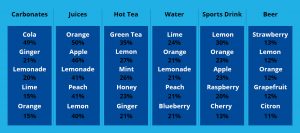 The Impulse market
Yoghurt, Ice cream, Baked goods, Confectionery, & dairy drinks are 5 key categories within the impulse market. Vanilla is a very popular flavour topping yoghurt (37%) and ice cream (56%) as the flavour of choice. For baked goods, biscuit/cookie (42%) is the top flavour for baked goods with chocolate (60%) being the flavour of choice for confectionery. For dairy drinks, the clear favourite flavour is milk with 58% of consumers choosing this option.
The Meat and Savouries market
Within the meat and savouries market, there are 6 key categories being; processed meat, sauces, soups and bouillon, ready meals, meat substitutes, and potato chips. The top flavour for processed meat is beef (41%). For sauces there are to joint top flavours, these being BBQ and Tomato (43%). Chicken flavoured soup is the most popular (46%) and cheese is the top flavour for meat substitutes (31%). Finally salt (40%) is the top flavour for potato chips.
Overall understanding which flavours are most popular amongst consumers is crucial for a brand when building their product portfolio. Understanding trending flavours is just part of this, brands also need to know which consumer groups to target such as millennials vs seniors, something our research breaks out in more depth.
This survey was conducted across 25 countries, for more information on other countries, please reach out to us.